Dorothy Reeder
Overview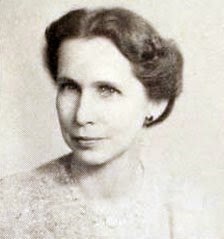 Dorothy Reeder began working as head of the libary at Maryland State Teachers College at Towson in 1948. At that time the college library was located in Stephens Hall, which housed not only the circulating book collection, but also special collections. Reeder cared not only for books, but for other items that were valuable to the school's history, such as a teapot given to Sarah Richmond by the Alumni Association and a flag that flew over the old Maryland State Normal School building. These pieces of school history were the start of the Special Collections and University Archives.
Some of these rare and fragile items were stored in the elevator shaft of Stephens Hall, betraying a clear need for a new library. Reeder advocated for a new library space for almost ten years until she was finally able to move into the newly created Albert S. Cook Library (now the Media Center). She made a strong case for a separate library building and was involved with every part of its the construction.
Almost as soon as the library opened in 1957, it became obvious that it was too small for the school's projected future enrollment as the Baby Boom generation reached college age. Reeder soon began planning the next library, which the school marketed as a "library addition" in order to secure state funding. This resulted in a connected building, which is why the Media Center and the current Albert S. Cook Library are attached. Reeder and her staff moved the library again in the summer of 1969.
After moving the library twice, Reeder stepped down from the library director role in 1970. Instead of fully retiring, she was asked to formally organize the collection of historic school items and establish the college archives. Reeder spent a year traveling to various institutional archives and learning archival practice. She also put calls out to alumni and faculty to begin collecting more material.
written by Felicity Knox, Archives Associate, Spring 2021